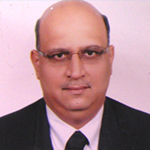 Greetings...
I welcome all the members of the esteemed Indian Society of Neurooncology. In 2009, under the able guidance of Prof. Abhijit Guha, the neurooncology community in India took the lead in the formation of an organization, which culminated in formation of a Society. For the past 8 years, the society has provided opportunity to professionals from various fields viz. neurosurgery, radiation oncology, neuropathology, radiology, medical oncology and basic science to on a common platform sharing knowledge and help augment service, research and education. The Society has over 330 members till date. Under the ageis of the society, we have been able to present the Indian experience in neurooncology in various forums all over the world viz. the Society of Neurooncology, Asian Society of Neurooncology and World Federation of Neuronocology.
The ISNO website isno.in has been revamped and is fully functional. We have tried to make it more informative and educative. The relevant recent past information regarding executive committees and conferences is also updated. Similarly, forthcoming events and links to relevant important neurooncology related websites is also displayed. A separate section on awards and fellowships for the accomplished as well as the students is also created for easy reference and participation. A Neurooncology forum has been created for case discussion and relevant comments of ISNO members on interesting topics. We have instituted two travel grants per year for young ISNO members, as a support to attend and present their relevant work pertaining to any field of neurooncology in international meetings/conferences.
I sincerely appeal all ISNO members to visit the website and be a part of our evolving process. Any suggestions are welcome. We wish to make the website more interactive.
A masterclass in neurosurgical oncology organized by the Tata Memorial Centre will be held in January 2018 in Mumbai. In addition, there will be a symposium on Glioma surgery. We also look forward to all ISNO members for active participation in the annual ISNO meeting in New Delhi in April 2018. It will focus on aggressive management of benign brain tumors.
The Secretary of ISNO can be reached at isnosecretary@gmail.com for any queries and comments.
With Best wishes and Warm regards on behalf of the Executive committee
Dr. Dattatraya Muzumdar
General Secretary
Indian Society of Neuro-Oncology